Christmas activities using Vlieseline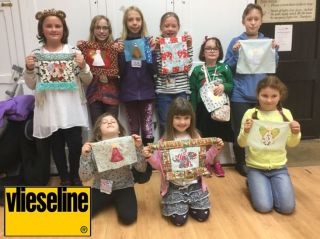 Over Christmas two Young Quilters groups used Vlieseline products in their workshops!
Thirteen Young Quilters in Farnham (Region 2) made a Christmas tree door hanging. They learnt how to make four flying geese from one large and four small squares. The geese were then sewn together and a trunk added. They backed it with a thicker cotton and the thin wadding supplied by Vlieseline to make them firmer.
Nine Young Quilters in Region 3 made Christmas angels using Bondaweb!
Thank you to Vlieseline for providing these materials.