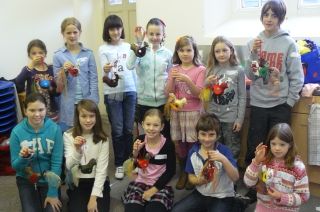 If you are between 5 and 18 inclusive and enjoy sewing, dyeing, fabric painting or any kind of stitching, Young Quilters is for you. Young Quilters is all about having fun, being creative and making friends.
Members of Young Quilters receive:
A welcome gift including sewing guides, fabric plus much more!
Two issues of the Young Quilter newsletter in the spring and autumn.
The chance to enter challenges and win exciting prizes!
Opportunities to attend workshops in the region where you live.
The opportunity to attend special workshops for YQs at Quilters' Guild events such as the AGM and conference and the Festival of Quilts.
If you would like to join the Young Quilters click here to join online for £5.00. Or you can download a membership form at the bottom of the page and post it to The Quilters' Guild, St Anthony's Hall, Peasholme Green, York, YO1 7PW. You can also join by signing up in person at a YQ event in your area.
If you would like to know more about Young Quilters or find a sewing group that meets near you, get in touch with the Young Quilters Project Leader, Sarah Illing yqpl@quiltersguild.org.uk or 01904613242.
PLEASE NOTE:
GDPR (General Data Protection Guidelines) have special implications for children. Due to these changes, we are reviewing our YQ membership system. All children's membership which is due for renewal will automatically be extended until further notice.