AGM YQ Challenge for 2014 - 'A Day at the Seaside'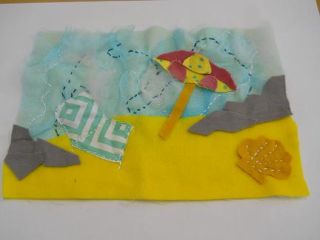 Young Quilters' Challenge
The Young Quilters' Challenge this year is 'A Day at the Seaside' and is open to all Young Quilters. Use your skill and imagination and have fun to design and construct a quilted item up to 60cm (24in.) in size in a technique of your choice. You must register your interest by Saturday 1st March by sending in the registration form (available below). Send by 29 March 2014 to: Jenny Chalmers, 8 Bartlett Close, Fareham, Hampshire PO15 6BQ.
NB Please note change of address for delivery of entries, and also the closing date. These items should not be sent to Guild HQ.
For some ideas to get started, check out the Snazzy Seascapes tutorial below.
Related Documents
Snazzy Seascapes

YQ 2014 AGM Competition Registration Form