Crawley Down Young Quilters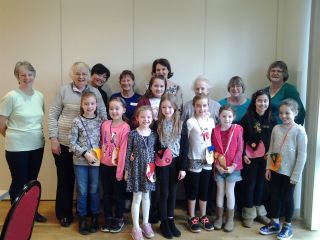 We have now been meeting in Crawley Down for almost three years, and although some of our older girls have now moved on, we still have more enthusiatic girls joining us.
In February half term we met to make felt bags. We had a smaller number of girls this time, only nine, but that made it easier for everyone to get help when needed. They cut the felt from a template supplied, sewed it together on the machine, and then had fun decorating with beads and felt flowers.
Thank you once again to all our loyal helpers, and to Morag, who keeps coming up with fun new ideas.
Jayne Hardy