'Feline Fancies': call for entries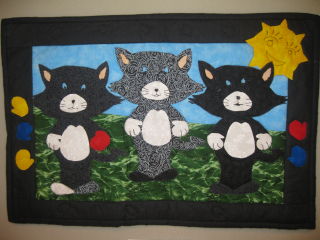 'Feline Fancies': call for entries
In conjunction with Cats Protection, The Guild is planning a new exhibition. 'Feline Fancies' gives Guild members the opportunity to make a quilt for exhibition at Festival of Quilts 2014. Following the Festival it is expected that the exhibition will be shown at other venues, including The Guild's Conference & AGM in 2015 and at Cats Protection's National Cat Centre in East Sussex.
Additionally, at each venue where 'Feline Fancies' is exhibited, visitors will be able to take part in a Chinese auction for some of the quilts. Visitors will be invited to bid for their favourite quilt by making an offer to buy it and putting their offer in an envelope. At the end of the tour, the envelopes will be opened and the highest bid gains the quilt they have chosen. In this way, much-needed funds will be raised and shared between The Quilters' Guild and Cats Protection. It is not compulsory for members to donate their quilts to the auction and any maker not wishing to do so will have their quilt returned at the end of the exhibition tour.
We expect that this new exhibition will inspire many members to enter. We look forward to sending you entry forms and the Rules for Entry on receipt of your expression of interest. Quilts should have a maximum size of 40in on any one side and will be selected by a jury from images submitted. For an entry form, please call Millie Thomas, Exhibitions Officer, on 01239 682583 or email thomas@hillcott.demon.co.uk
For information about Cats Protection, please visit: www.cats.org.uk or call the Helpline on 03000 121212.