'Free' - YQ/YE competition at the Festival of Quilts 2017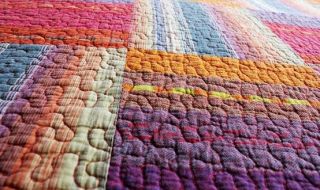 The theme 'Free' can be interpreted literally, metaphorically, poetically...as widely as you wish, giving you the chance to be as creative as you like! For ideas and inspiration, visit the YQ Pinterest page - Click here to visit the page.
Think about what the word 'free' means to you.
Maybe you feel 'free' when you are listening to your favourite music or taking part in your favourite sport?
Maybe the word 'free' reminds you of wild animals or birds flying through the sky?
You are 'free' to try any quilting techniques...
Or you are 'free' to choose a topic of your choice.
This theme gives you the chance to be as creative as you like!

Go to www.thefestivalofquilts.co.uk for details on how to enter. The deadline is Friday 2nd June and entry is free!

The Festival will take place at the NEC in Birmingham from 10 – 13 August. This year, you will receive a free ticket if you enter the competition…come along and see your quilt exhibited in this famous show! Why not come along and take part in our exciting sewing workshops too? Find out more on the festival website above.