In the Spotlight Young Quilters Exhibition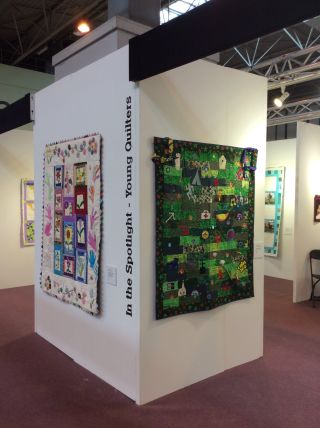 At The Festival of Quilts 2016 we had a special exhibition called 'In the Spotlight' to celebrate the amazing work of Young Quilters across the country. YQ reps were asked to nominate a selection of quilts to exhibit and we were lucky to have space to show all the pieces entered. A total of 25 quilts were displayed showing a wide variety of sizes, designs and sewing techniques.
The festival is the largest patchwork and quilting exhibition in Europe and people visit the NEC in Birmingham for this show from all over the world! Everyone was really impressed by the YQs exhibition and also pleased that so many young people are enjoying quilting and having fun being creative. The exhibition had fantastic feedback with many postive comments, here are a few...
'It is wonderful to see all the different pieces that young children can achieve. We would like to see more encouragement for young quilters to push their skills and be able to show their work. Thank you for this wonderful opportunity to see what our brilliant children can do.'
'A super exhibition! Well done YQ's! Patchwork and quilting are safe in your hands for the future. An excellent and diverse exhibition. I look forward to the next one!'
'These are great quilts and very skilled! Carefully done and very good and detailed. Very impressed with all the work, well done there is hope for the future.'
'Greatly impressed by some of the design skills and the piecing accuracy on the samplers.'
'It is an absolutely stunning exhibition. Masterpieces full of beauty and extremely inspiring. Thank you for your hard work and for the opportunity to see your work.'
'Your work mademe smile. Well done everyone. Hope there is an exhibition like this every year.'