Interview with Lily Woodward Region 10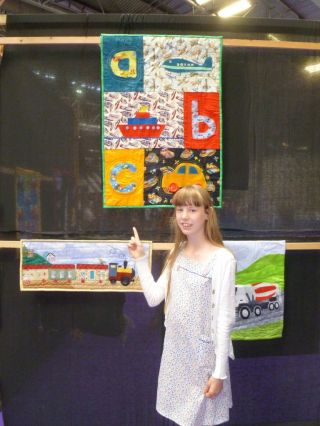 On Friday of the Festival of Quilts I was fortunate to meet several Young Quilters who entered quilts in the 'Transport' competition. Lily Woodward is from Region 10 and was visiting the Festival of Quilts with her grandmother. She made her quilt as a gift for her twin cousins who are two years old. What a wonderful idea and I'm sure they will treasure it!
Lily's quilt entitled 'Planes, Boats and Automobiles' depicted three modes of transport: an airplane, boat and car. To make her quilt, Lily used machine piecing, appliqué and machine quilting techniques. She cleverly stitched the letters A, B, C to correspond with the types of transport. That's very appropriate for her little cousins who are probably learning their 'A, B, Cs'. She also used cotton fabrics printed with the different types of transport.
Lily has entered past Young Quilter/Young Embroiderer Competitions at Festival of Quilts including the Fun of the Fair and Diamonds. She said that the Fun of the Fair was her favourite theme for which she made a quilt of a helter skelter which was her favourite ride. You can see an interview with Lily from 2011 here.
Lily is an enthusiastic quilter and sewer and has a room full of quilts at home. To top it off, she was wearing a sundress she had sewn herself! Thank you Lily for entering this year's competition, we look forward to what you'll be making for next year's competition!