Last chance to enter the YQ AGM Challenge 2017 - £100 prize up for grabs!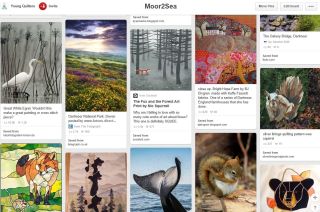 There's still time to enter the YQ AGM Challenge - send the Young Quilter Project Leader an email if you would like to take part! yqpl@quiltersguild.org.uk
Using your imagination, have fun whilst making a quilted item up to 60cm (24") in any one direction for the theme "Moor2Sea". The challenge theme is inspired by Torquay where the AGM will be held. Torquay is between Dartmoor National Park and the depths of the English Channel. Be as creative as you like. It can be something useful or decorative. You can use any technique – patchwork, quilting, appliqué or a mixture of techniques, hand or machine sewing.
For inspiration please visit the YQ Pinterest page
The age bands for judging will be 10 and under, and 11-16 years. • Remember this work needs to be made by you but please state if you have received any adult help and how, we all do need help sometimes.
RULES OF ENTRY
The individual categories are open to all current YQ members.
The Group Quilts category is open to all current YQ School members, groups led by an Interested Adult member and groups led by a YQ volunteer who is a member of The Quilters' Guild.
Entry is free!
You do not have to attend the AGM to enter.
A 4" hanging sleeve must be attached to the back of your quilted item.
Entries may be hand and/or machine sewn.
Entries received after the closing date of 13th March 2017 will not be entered into the challenge competition.
The winners of each category will be announced during the AGM as well as the overall winner who will receive the Doris Debney Prize of £100. This prize is to enable the YQ to further her/histextile exploration.
Doris Debney worked as a nursery nurse and was a member of The Quilters' Guild. Children were important to her and in honour of Doris, who died in June 2013, the prize has been established by her family to leave a legacy to Young Quilters in her name. The Doris Debney Memorial Prize will be awarded annually to the winner of the Young Quilters' AGM Challenge from 2014 to 2018.
Entry form/registration form is available below and you will recieve a copy with your YQ newseltter.
Related Documents