Region 2 Young Quilters - Quilting in the park!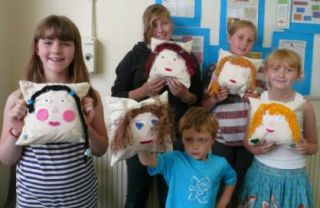 Hi YQ, I have been your new YQ rep since May 2012. Having had the opportunity to meet some of atworkshops and at the Dartford Festival I am amazed at how talented you all are.
The Dartford Festivalin Central Park on the 14th & 15th July 2012 was a very wet one but it didn't keep you away and we did have lot of fun. See the photo of just a few.
Those of you that joined me at the Mick Jagger Centre in Dartford on the 28th July will recognize themselves in the photos below. It was great fun making the face cushions, well done.
We have another four workshops arrange between now and December, these being 29th September, 13th October, 24th November and the 15th December. Watch out for the email reminding you of these dates.
Hever Quilt Show – 14th – 16th September 2012
On Saturday 15th&Sunday 16th September I will have a YQ sit and sew table for you. Please come and say hello. I will have a selection of fun things for you to make.
If you have anything that you have made and would like to have it displayed please let me know soI can discuss it with you.
l