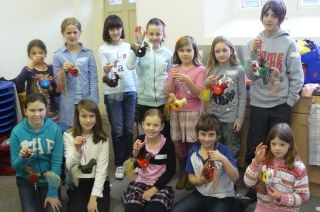 If you are between 5 and 18 inclusive and enjoy sewing, dyeing, fabric painting or any kind of stitching, Young Quilters is for you. Young Quilters is all about having fun, being creative and making friends.
Members of Young Quilters receive:
a digital 'welcome' resource pack including sewing guides and resources
Two issues of the Young Quilter newsletter in the spring and autumn.
The chance to enter challenges and win exciting prizes!
Opportunities to attend workshops in the region where you live. [activity currently paused due to Covid-19]
The opportunity to attend special workshops for YQs at Quilters' Guild events such as the AGM and conference and the Festival of Quilts.[activity currently paused due to Covid-19]
If you would like to join Young Quilters, young people aged 13+ can join online by clicking here. For any child aged 12 or under, please download a membership form at the bottom of the page and email it to membership2@quiltersguild.org.uk. This is because we need a parent/guardian to give written consent.
If you would like to know more about Young Quilters get in touch with the Young Quilters Project Leader, Sarah Ashford yqpl@quiltersguild.org.uk.
Aged 13-18? Find out about Youngish Quilters here!
We also have a Schools membership category! Find out more by clicking here.