Region 9 YQs have been busy during lock down!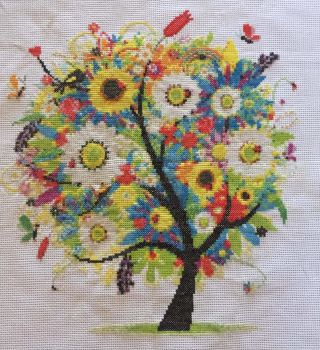 Region 9 YQs have been very busy during lockdown and here are few of the items they have been creating. They have taught themselves some new skills: up-cycling, knitting, cross-stitch, origami and recreating famous pictures.
Isabella has been learning Origami by creating paper boats for the family to float in the nearby stream. She has also been learning how to knit and make pompom cats.
Leah has been up-cycling old clothes and adapted a t-shirt into an off the shoulder top. She created her own stencils for the butterflies and used her sewing skills gained through attending YQ workshops.
Lily has been doing some cross stitch, this is her first attempt - what a beautiful piece!
Adele has joined a group that recreates artworks. She has attempted 3 projects with the help of her Grandmother:
1 - " Frida Kahlo Auto portrait with a monkey", 1940
2 - " The Merchant's Wife at Tea" by Boris Kusztodiev, 1918. Props: tulle, silk curtain, false curls, soft toy possum. Samovar, porcelain China set and towel are from the family collection. Watermelon, sweets and fruit bought from Tesco.
3 - Girl with a Pearl Earring c1665 This is an oil painting by Dutch Golden Age painter Joahnnes Vermeer dated c 1665.