Start to Quilt - book review by YQ Bryony Saint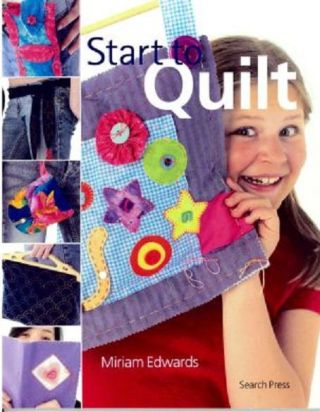 Start to Quilt by Miriam Edwards
I enjoyed Start to Quilt as there are some lovely projects with really easy instructions for the beginner. I particularly liked the introduction where it explains all about quilting and how it started. Also I liked how they explain how to do the techniques so I don't have to get my mum to do it any more.
There are some amazing, beautiful and interesting projects, with easy step-by-step instructions. The book gives you little improvement ideas which you can adapt to your liking. For each project there are templates.
My favourite idea was the wallhanging which included scruffy flowers (Suffolk puffs) on a patchwork. I really enjoyed trying to make it.
This book isn't just for children as my Grandma who is a novice quilter loved the ideas. You don't need to go rushing to the shops to buy big wads of fabrics like in some books I've read. You're encouraged to use scraps of fabric you may already have around the house. It's good that the projects are quick and easy to complete, so you don't feel overwhelmed like some books make you feel. I would urge you to save your pocket money or put this book on your birthday list!
Star rating: ***** 5/5
Bryony Saint, age 13
Start to Quilt by Miriam Edwards is aslo available for YQs to check out from The Guild library. Go to The Quilters' Guild website for details on how to borrow it.