Lucy Locket's 19th century Patchwork Pocket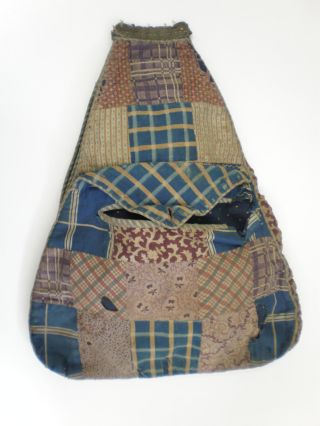 Lucy Locket lost her pocket,
Kitty Fisher found it.
Nothing in it, nothing in it
But the binding round it.
This nursery rhyme was a great puzzle to me when I was small. How could Lucy Locket have lost a pocket? A pocket, as we all know, is safely sewn onto the garment, either on the outside or hidden in the seams. But then I found out that in olden times pockets weren't attached to garments at all. They were more like bags which were usually tied around the waist, either with a ribbon or attached to a belt – a bit like what we call 'bum bags' today!
The problem was that it was very easy for thieves, called 'cutpurses', to quickly run past, cut the ties and make off with the pockets. Maybe there was nothing in Lucky Locket's pocket because a cutpurse had stolen it and emptied it! Eventually people came up with the idea of sewing them to garments.
This patchwork pocket, in The Quilters' Guild Collection, was almost certainly made around 1840. It has a side opening into the main pocket and a small pocket on the front. It would have been tied around the waist with a ribbon, often underneath a dress or coat, which would have had a special opening in the side to reach the pocket.
You can make your own pocket to use today out of cotton scraps and tie it around your waist with a ribbon. For full instructions, download the tutorial below.
By Celia Eddy
You can read more about the history of the original pocket on the Quilt Museum and Gallery website here.
Related Documents
Lucy Locket Pocket template A3 size

Make your own Lucy Locket's Pocket Tutorial